The Wolves Pack

The Wolves Pack on Christmas in 2011, along with King but without Rodney's cubs.
Info
Tag
Golden coin (Not always used)
Gender
Males and Females
Species/Breed
Wolves / Various kinds
Owner(s)
The Miltons (technically)
Friends & Family
King Milton, The Milton Ferrets
Affiliation
The Milton Ferrets (Security Service)

The Equal Chance Program (Founder members)

Not-so-much
Friends
Jata
Location
Dimension Prime, Babylon Gardens
The Wolves Pack
(Also called Milton Wolves, Wolf Pack or simply Wolves), are a group of wolves who are regular characters in 
Housepets!.
Though mainly supporting characters, they have been given their own arcs from time to time since debuting in
The Visitor
, such as
A Holiday at the Zoo
and
Jack Of One Trade
.
Official Site Biography
Edit
Keene had the bright idea to sponsor wild animals to join the Babylon Gardens community as "people", for a given loophole in the definition of people.
General Information
Edit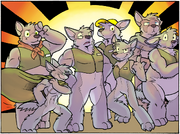 A bunch of wolves who became tired of feral life, as first noted by Lucretia, and decided to live among society. This caused Miles; the alpha wolf of the pack, to try to integrate with the humans though with not much success. Then he met Keene (who was drinking a bit too much Orange Soda). Learning about Miles' Pack intentions and sharing his 'Dad' purpose of instated an equal treatment between animals and humans, Keene made an offer to Miles: if every one in the pack passes the GOE (General Obedience Exam) and taking advantage of some Pet Ownership Loopholes they will be documented as pets but having their own home within a human neighborhood, Babylon Gardens. Miles took the offer and so The Equal Chance Program begun, with the wolves pack as the first members. Because of this they are legally part of Milton Family.
The pack moved to Babylon Gardens shortly after, there Miles presented them to the neighbors while Lucretia prepared a home-warming party. When Miles meet the Sandwich Family, he accepted Peanut's help with the party since he knew more about the humans. The party was a success and the wolves had been offering more in times like Christmas.
The wolves were (mostly) accepted by community easily after this. The adult males started working for the Milton Ferrets as Security Service, the females take care of the home, Miles' cubs spending time with the pets and Jack having a Second-Hand shop (with stuff he steals). Later Rodney and Snow expanded the pack with two cubs of their own.
The wolves like to share many family moments, at home or hanging out. Later King joined the program after his owner disappeared. The Wolves took him in as a member of the family, Miles and Lucretia acting like parents to him. The pack members interact with King or Keene in many strips.
It must be noted that as Wolf Tradition the cubs are not named, they must name themselves once they find name they feel important and/or meaningful to them. But as the cubs tend to choose 'cool names', so the official naming must wait for them to be more mature.
After Keene Milton stepped down from the Equal Chance Program, the wolves were dismissed from their security detail and took on jobs in the real world.
Miles
Alpha wolf of the pack. Miles is an intellectual and calm wolf who likes to read books and wears glasses some times. He's friendly to everyone in Babylon Gardens, very polite and respectful to everyone be meets, and works diligently to gain the trust and acceptance of his human and pet neighbors. Early on, Earl Sandwich and Peanut proved quite helpful instructing Miles' adjustments to the peculiarities of civilization. As Alpha, Miles rules his pack with a gentle hand and light touch, taking care of all under his roof. When King became homeless, he took took the corgi in, treating him as a son. Before moving into Babylon Gardens, he had a history with a cougar named Gale, whom he "betrayed" at one point. He now works as a substitute teacher. Miles was introduced in
Stranger Danger
.
Daryl and the other Daryl got their name for a old television Joke. Curiously Daryl was introduced as Miles' other brother while the other Daryl was introduced some time later, but now the chubbier one is refereed to as "The Other Daryl"

According to Daryl, the reason he and "the other" Daryl have the same name is because something happened during their Rites of Adulthood.

It's speculated that Cousin Rodney and Natalie are Uncle Deadeye's son and daughter. And Uncle Deadeye being Miles' uncle. Which makes sense to explain all the relationships, but has to be confirmed.

This is partially confirmed in Wolf's Clothing when one of Rodney's cubs calls Uncle Deadeye: "Grampa Deadeye".

"Rockstar Hawk" previously used the name "Space-Laser".
"North Star" previously used the name "Deathaxe".

This makes "Darth Vader Sanchez" the only cub who hasn't gone through a name change.

But it has been shown that he's nicknamed "Deevee" (from D.V. Sanchez), which Rick has stated is what he will be called in the comic.

It was revealed in All's Fair, Part 2 that the parents of Miles, Daryl and Other Daryl are deceased.
The only two arcs that feature every member of the Wolves Pack are A Holiday at the Zoo and The King And I.
As of Call o' th' Wild the wolves no longer work as security, and have acquired new jobs in the real world.