The printed version of Housepets!, comprised into semi-annual books that include arcs for each year and the one-off strips in-between.
The books are published by CreateSpace, and sold in their website and Amazon, along with other of Rick's printed works. The books can also include some special content and their in-store descriptions quote the characters referring the product, though Book 4 implies those quotes are fakes. Each book has unique and new art for the cover.
Book 1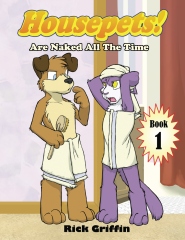 Housepets! Are Naked All The Time
This book takes its title from Grape's quote in the strip I Planned This Joke For An Awful Long Time and include the arcs of the 1st year:
Community content is available under
CC-BY-SA
unless otherwise noted.