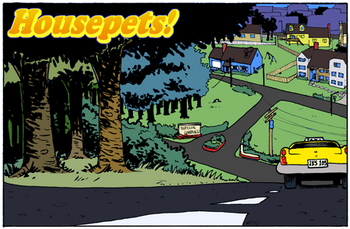 Babylon Gardens
is the main location in 
Housepets!
. It is a "pet-friendly" neighborhood located around
River Ridge
, and most of the characters live there with their owners and families. The community was founded by
Henry Milton
in 1987, and is currently managed by his pet
ferrets
. It appears to be close a forest.
Residents
Edit
D'Angelo Family
Tarot

Apparently living with Sabrina
Holloway Family
Mr. Holloway

Mrs. Holloway
Daisy's Family
| | |
| --- | --- |
| | Daisy's Owner |
Possible Residents
Edit
'Possible Residents' have been seen around the Babylon Gardens neighborhood many times, or participating in various events like The Miltons' hosted events, Good Ol' Dogs Club hosted events, The New Year Yarn Ball , Wolves' Christmas Party and The Great Water Balloon War. But their families or homes have not yet been showed.
Listed owners have all either appeared, talked to or been directly mentioned.

An exception to this is Joey's. Instead, when Ryan and Fido were talking about Fido's brothers, Ryan believed Bino's owner was Jake but it was later revealed to be Jeff; so it is possible Jake is the owner of Joey, but this has not been confirmed yet.
Other exception is Kevins's. Kevin full name was reveled in a visit to the vet but his owner itself had never been referred, mentioned or appeared.

A tricky case is Tarot and Sabrina's. Most of their time is in a house, that does not seem to be owned by another character, not much belongings are shown, and Tarot's owner remain unknown. Still it was shown that Professor D'Angelo indicates to call Sabrina to their home phone for any kind of emergency. This may mean Sabrina and Tarot live in the D'Angelo residence.
What Chicken has been seen some times in Babylon Gardens, though it remains unknown if it's someone's pet or a 'feral' chicken that lives nearby.